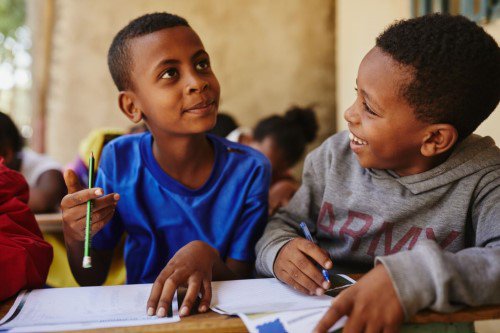 This curriculum has helped millions of children around the world learn, grow and pursue the plan God has for their lives despite the challenges they face, living in poverty. Each lesson includes clear objectives and indicators, as well as instructions to help teachers prepare and deliver the lessons. Lessons also include suggested activities for facilitating further learning in a fun, interactive manner. The curriculum is organized by age and includes lessons for: 3-5 year olds, 6-8 year olds, 9-11 year olds and adolescents. There are approximately 300 lessons for each age group that focus on the four areas of development listed below.
Cognitive lessons develop academic learning and teach children practical skills and problem-solving. These lessons increase their overall knowledge of the world.

Physical lessons develop children's understanding of health and teach them how to have a healthy lifestyle and take care of their bodies.

Socio-emotional lessons develop children's understanding of social interaction and emotional responses. These lessons teach them how to develop good character and make wise choices, as well as how to process their emotions and pursue  healthy relationships.

Spiritual lessons develop children's understanding of God and what it means to follow Him, teaching biblical knowledge, spiritual practices, and overall faith development.